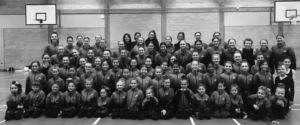 Welcome to
Evatt Calisthenics Club
Belconnen ACT
Evatt Calisthenics Club is based in Belconnen in Canberra, ACT. Established in 1976, our Club is one of the oldest competitive clubs in the ACT and we are always looking for new members to join us at the commencement of the Calisthenics year!
Calisthenics is a year round sport and classes are held weekly within school terms. Competitions are held by local and national organisations and give participants a chance to present their routines to an audience and an adjudicator. ACT competitions are held at the Erindale Theatre in Wanniassa and our Sub-Juniors, Juniors, Intermediates & Seniors also travel to Ballarat, VIC in October to compete in the prestigious RSSS Competition.
Weekly classes are held at Primary School Halls throughout Belconnen, and range from 1.5 hours – 3.5 hours depending on the age-group.
If you are interested in joining our fantastic family friendly club or just want to ask a few questions, use our online form found under the "Contact Us" page. We look forward to welcoming many new faces!
The Canberra Labor Club – Belconnen