Merchandise
All competitors are required to purchase the Evatt Uniform as it is mandatory to wear at competitions.
Complete the order form and email to evattcalmerchandise@gmail.com
New Uniform 2018  – will be transitioned over 2-3 years. Better graphics coming soon. Please note there are 2 sizes of backpack (refer order form) and the Polo Shirts come in Men's sizes too. Please see your Team Manager for sizing charts.
Evatt New Uniform-Merchandise Order Form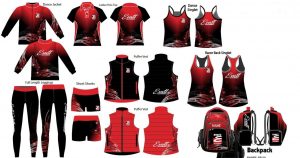 Items below now at discounted prices – can be used to wear to Training