Merchandise
All competitors are required to purchase the Evatt Uniform as it is mandatory to wear at competitions.
Complete the order form and email to evattcalmerchandise@gmail.com
New Uniform 2018  – will be transitioned over 2-3 years.  Please note there are 2 sizes of backpack (refer order form) and the Polo Shirts come in Men's sizes too. Please see your Team Manager for sizing charts.
Please note, older style uniform still in circulation being offered at discounted prices, not all sizes available, email the Merchandise Officer for more information.
Evatt Uniform-Merchandise Order Form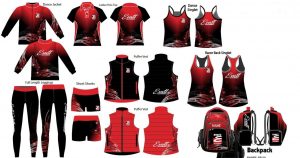 Items below – Jacket/Polo Shirt/Track Pants/Backpack  now at discounted prices – Package deals on offer. Limited sizes.